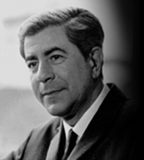 "A phenomenon without equal in the history of the contemporary organ"
Thus did Marcel Dupré describe his student, Pierre Cochereau.
Organist at the church of Saint-Roch in Paris starting at the age of 18, he was barely 30 when appointed to the cathedral of Notre-Dame where his genius as an improviser would literally burst forth.
At the same time, he was director of the conservatories at Le Mans, then Nice, before being entrusted with setting up the National Conservatory at Lyon.
His innumerable tours across five continents made him a legendary figure of the organ.
From 1975 until his death in 1984, he recorded exclusively for Solstice.