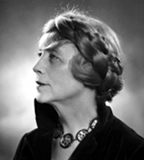 Throughout her long life, Yvonne Lefébure, born at the turn of the XXth century, divided her career between performing and teaching.
A child prodigy, at the age of 14 she won a First Prize in piano in the class of Alfred Cortot. Linked to the great musicians of her time (Fauré, Ravel, Dukas...), she became their favourite interpreter when not performing with such conductors as Furtwangler, Boult and Markevitch, or appearing with Pablo Casals.
Hers was an inquisitive mind, interested in everything, and she counted the painter Raoul Dufy and the philosopher Alain amongst her friends. Her passion for teaching took her from the Ecole Normale to the Conservatoire of Paris, with such prominent pupils as Dinu Lipatti or Samson François.
For the last ten years of her life, up until her death in 1986, she entrusted Solstice with recording the essentials of her artistic message.