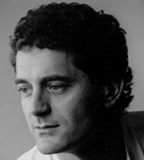 Henri Ledroit was initially trained as a baritone, but in 1972, at the age of 26, he met Alfred Deller who revealed his true nature as a counter-tenor. Henceforth cultivating this highly particular tessitura, Henri Ledroit worked with Nikolaus Harnoncourt, René Clemencic and René Jacobs.
In 1979, he began an opera career studded with ever-increasing successes and culminating in 1987 Boston and New York performances of the mediæval epic poem Tristan et Yseult in which his acting talent rivalled that of the singer. He died the following year in Nancy.
From 1982 on, nearly all his recordings were made for Solstice.