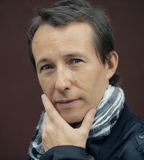 After brilliant studies of mathematics (admission to the Ecole Polytechnique and to the Ecole Normale Supérieure), François-Michel Rignol decided to consecrate his life to music. Having obtained the first prize, the prize of excellence and the licence of concert of the école Normale Supérieure de Musique in Paris (professor Françoise Thinat), he gained also the Certificate of Aptitude. He shares his time between his passion for teaching at the Conservatoire National de Région in Perpignan and his concerts in France, Brazil, Spain, Japan, Finland, Italy and Germany.
His passion in contemporary music has led him to work directly with the composers (Luis de Pablo, Claude Ballif, Joanna Bruzdowicz, Daniel Tosi, Denis Dufour, Bruno Mantovani, Michèle Reverdy, Gian Paolo Chiti, Bertrand Dubedout, Bruno Ducol, François Rossé) and several works are dedicated to him.
He is a member of the Eole collective (Toulouse) and the ensemble Syntax (Perpignan).