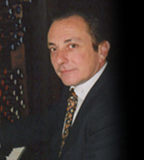 Pierre Pincemaille, organist, studied with Henri Challan, Jean-Claude Raynaud, Marcel Bitsch, Jacques Casterede and Rolande Falcinelli at the National Music Conservatory in Paris, where he was awarded five First Prizes: harmony, counterpoint, fugue, organ (interpretation and improvisation).
He then went on to win five successive Grand Prizes at the international competitions of Lyons (1978), Beauvais (l987), Strasbourg l989), Montbrison (1989) and Chartres (1990). In November 1987, he was the victor in the competition for organist at the basilica of Saint-Denis. The world-renowned instrument (1840) there was the first one to be built by the great 19th-century organ builder Aristide Cavaillé-Coll.
In addition, Pierre Pincemaille pursues an international concert career throughout Europe, as well as in the United States and Canada, and engagements have taken him as far afield as Russia, South Africa and China. He has been a soloist under the direction of such prestigious conductors as Mstislav Rostropovitch, Myung-Whun Chung, Riccardo Mutti and Charles Dutoit.