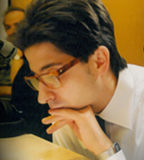 DISCOGRAPHY
Fabio Grasso was born in Vercelli (Italy) in 1969. With an honours degree in piano from the Turin Conservatory and another in composition from the Milan Conservatory, he also earned a doctorate cum laude in Classical Greek Literature from the University of Eastern Piedmont. He first studied piano in Vercelli with Mario Barsolo and Jean Micault, then with Maria Tipo at the Fiesole Music School, where he also studied composition with Giacomo Manzoni. Later on, he attended advanced classes in piano with Marco Vincenzi and, in Berlin, Klaus Hellwig, as well as composition with Franco Donatoni, amongst others.
In 1996, at the 2nd International 20th-Century Piano Competition in Orléans (France), he won the Blanche Selva Grand Prize (First Prize) and the Maurice Ohana Prize for his interpretation of the composer's Piano Concerto. As a composer, he won First Prize at the 1996 Ginastera International Composition Competition in Buenos Aires with a work for guitar and orchestra (Katoptroeidès), premiered at the Teatro Colon in the capital of Argentina. In 1999, the jury of the Télémaque Ensemble-Young Music Days International Composition Competition in Marseilles unanimously awarded him the prize for his chamber score La sérénade aux tristes sourires, which, in addition, won the special audience award.
Fabio Grasso has written several other works in the chamber, symphonic (including a Piano Concerto), choral and lyric genres. He has performed his piano pieces in Paris, Berlin, Orléans, Nice, Montpellier, Colmar, Florence and Milan. His chamber works have been performed in Milan, Rome and at the 1998 Gaudeamus Festival in Amsterdam.